by François Amy de la Bretèque
Something about the very essence of the circus show seems deeply suited to the medium of film: a presentation of pure movement that it is the filmmaker's vocation to record. Reciprocally, shooting a film can, in many respects, be seen as having a circus nature. That was especially true in early film, but something remains of that today. Even conditions for the audience and their behaviour provide similarities. It is therefore unsurprising that there have been numerous encounters between the two arts during the course of their history. Circus characters have gone into film, film people have been inspired by circus characters and famous films have chosen the circus world as a setting. The parallel does not end there. Hidden relations exist between the circus ring and the screen, such as themes and forms found in films that are not explicitly about the circus. This appears particularly in "modern" film.
Journalist and historian Jacques Richard has studied the close relations uniting the circus milieu with that of film in the early days (before 1910). In particular he studied itinerant performers and traced the ancestry of fairground dynasties who showed films under the big top, usually alongside other attractions. He established biographies of many actors and directors from those bygone times, and whose origins and lives are often lost in the haze of history. What we still do not know is whether they really were show business people or whether they invented their own legend. Roméo Bosetti (1879-1948)1, Lucien Bataille (Zigoto) and many others formed the French "burlesque school" and were the forerunners of the American comedians, many of whom also came from the circus. Buster Keaton and Charlie Chaplin were the most famous of them, but there were also many of Mack Sennett's actors. A whole series of comedy films were directly inspired by circus numbers: comic decapitations, people being run over then resuscitated, thrilling dances, impossible undressing, and sinking, particularly in a pond. From the circus also came the ability to recognise the hero thanks to his "costume and his unusual way of walking, which meant he could be recognised immediately."
To begin with, what these cinematic "views" recorded were simple numbers without narrative development to "package" them. In this way the Frères Lumière recorded an entire series of Foottit and Chocolat numbers. When tapes got longer and developed fro "views" to "films," narration was seen in successive scenes. A sequence of numbers, constituting a circus show, supplied a sort of model for primitive narration. In classic circus films you will often see a blend of these two different forms: "on a loop" with the number filmed in the closed space of the circus ring, or a "sequence" of successive numbers. The circus film kept this heterogeneity even when it became narrative in form.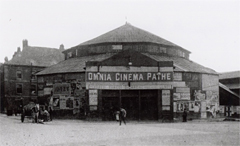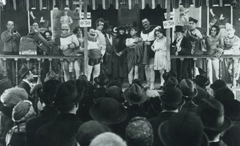 1. Roméo Bosetti (1879-1948), was a French actor and director of silent French comedy films. He began his career at the age of 10 in the music hall with drag acts or performing geese. A mime artist and lead acrobat in the equestrian troupe Lécusson in the Barnum & Bailey circus, he quickly went into the burgeoning film industry (1906). We have him to thank notably for the film The epileptic mattress (1906).  Jacques Richard Bosetti le créateur , part 3 of the dossier  Quand les gens du cirque français inventaient le cirque burlesque, in Le Cirque dans l'Univers N°181 of the 2nd trimester 1996 and « Archives », N°89, Perpignan 2001, Les Acrobates du rire.
2. Kammerspiel (or Kammerspiel film, also known as "chamber drama" was a German theatre and film movement in the 1920s. The name means "chamber acting" and evokes chamber music (Kammermusik).
3. This movement, also called French impressionism, as opposed to German expressionism, was led by the critic and director Louis Delluc, and included filmmakers Germaine Dulac, Marcel L'Herbier, Abel Gance, Jean Epstein and René Clair.